A Bitcoin wallet closely resembles your bank account. It lets you send, receive and store bitcoins. There are several types of wallets out there to choose from, and they vary in features and devices on which they are used. It is advisable to know these categories so that you always choose one that suits you.
1. Cold wallets and Hot wallets
All wallets are classified as either hot or cold. One that is connected to the internet or is online is said to be 'hot'. On the other hand, 'cold' implies it is offline or disconnected from the internet.
'Cold' is considered the most secure, thus, recommended for storing large amounts of bitcoins. 'Hot' is suitable for frequently accessed funds. Therefore, the best strategy is to use cold storage for long term holdings and a hot wallet for regular use.
2. Desktop wallets
They are designed to be downloaded and used on laptops and personal computers. They are easy to access and use even when the computer is not connected to the internet.
They are available for different operating systems – Windows, Mac OS and Ubuntu. Armory is the most recommended desktop wallet, especially due to its security features. Others are Multibit, mSIGNA, and Hive.
3. Mobile wallets
We use phones for most tasks these days and bitcoin wallets tailored for your Smartphone is therefore very convenient. Mycelium and Blockchain are both available on Android and IOS. For Blackberry, Bitcoin Wallet is one of the few available.
Perhaps, one of the most handy features on mobile wallets, apart from enhanced security features, is the QR code capability. It enables instant payments.
4. Online web wallets
These are provided on the cloud by third party wallet service companies. The wallets on these platforms are only accessible through an internet connection. Coinbase and Circle are some of such service providers. Bitgo is trusted by institutions for its vault services that include co-sign to lock accounts.
On the other hand, multi-signature wallets from Coinkite let you decide the number of cosignatories to have one account.
5. Physical wallets
If you thought bitcoins were digital only, then think again. Paper wallets can securely hold your bitcoins in cold storage form for a long time. You can store this form of wallet it in a safety deposit box along with your other valuables.
In order to generate a paper wallet, you use sites such Bitaddress.org or Blockchain.info. Once they are generated, you print them out on a piece of paper.
6. Bitcoin Clients
These are the original bitcoin wallets used by the pioneers of the currency. Computers installed with these wallets form part of the core network and thus have access to all transactions on the blockchain.
BitcoinQt, was the first ever built bitcoin client wallet. Many believe it is what Satoshi Nakamoto used. With it, you play a role in the overall state of the network. Another with richer features is Electrum, a lightweight client.
7. Hardware Wallets
Trezor and Ledger HW.1 are quickly becoming popular as portable physical vaults. They are incredibly small devices. They are secure for storage, sending and receiving transactions online. Their developers make use of top grade cryptography and take them take through continual scrutiny.
Bitcoin debit cards help bridge the Bitcoin world with traditional finance. By loading up a debit card with bitcoins, it becomes possible to spend bitcoins at almost any credit card accepting merchant.
While Bitcoin debit cards don't allow users to spend bitcoins directly, they at least allow people to store balances in bitcoin. Since most debit card top ups only take a few seconds to confirm, bitcoin balances can be held up until the need to spend.
Cryptopay VISA Debit Card

The oldest and most established Bitcoin debit card, Cryptopay's VISA card with over 23,000 issued. Cryptopay has made it simple for customers to spend bitcoins at millions of businesses around the world.
For purchases both online and offline, Cryptopay makes the process convenient for users and easier than ever for merchants.
There are both plastic and virtual debit cards issued. Cryptopay customers are not required to complete ID verification provided if they are happy to stay within the lower debit card limits. It is possible to stay anonymous where desired.
Costs range between €15.00, £15.00, $15.00 and €2.50, £2.50, $2.50 depending on currency, location and card limits.
BitPay VISA Debit Card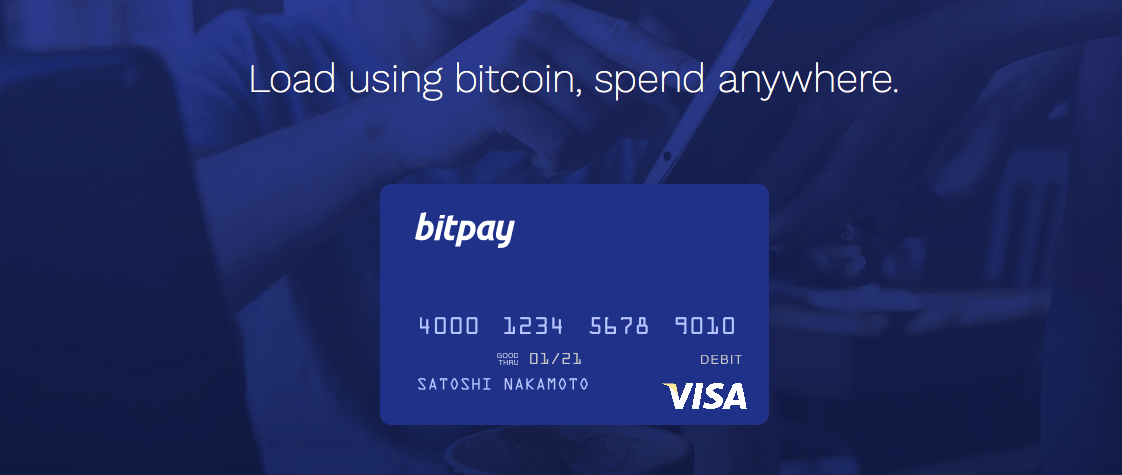 Although the newest Bitcoin debit card, BitPay's VISA card is perhaps the most exciting of the bunch. It is the first Bitcoin debit card that is available to US residents from all 50 states.
BitPay's debit card costs $9.95 to order, and arrives 7-10 days after purchase. It can be used online, in-person, and also works with any ATM that works with VISA cards.
Unlike Shift's debit card (featured below), deposits lock in value in dollars. Shift's debit card spends directly from your Coinbase balance, which creates an accounting nightmare for capital gains taxes when it comes time to file.
Xapo Debit Card

Xapo's debit card was the first to market. It is available in most European countries, but not the United States.
The Xapo debit card costs $20 and also has an annual fee of $12. Once ordered, the card takes 10-25 days to be delivered. It debits funds directly from your Xapo web wallet.
Coinbase / Shift Card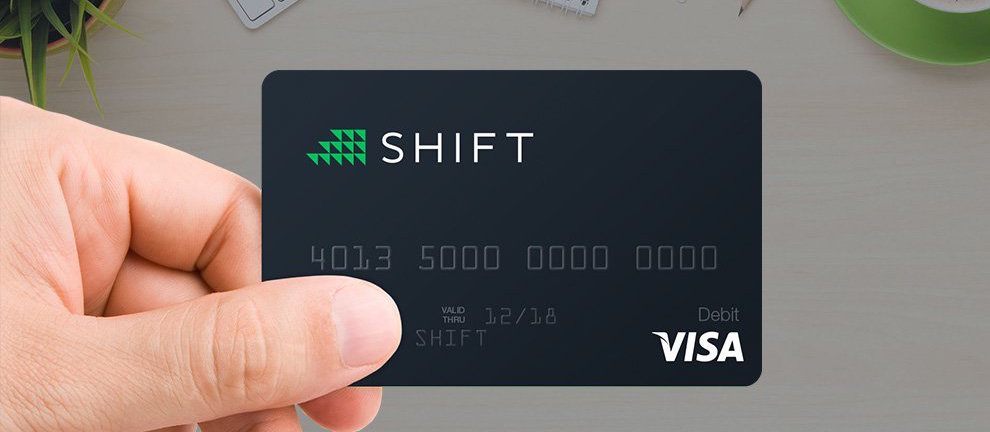 Shift was the first Bitcoin debit card available to U.S. residents. It is currently available to residents in 41 U.S. states.
The Shift card connects to your Coinbase account. For each debit card purchase, it automatically withdrawals the necessary amount of bitcoins based on the dollar value of the transaction.
For now, the Shift card is completely free to use but costs $10 to purchase. Shift and Coinbase have both stated that in the future there will be transaction fees for each purchase.
More Options
Google search will show many more Bitcoin debit card options. After research, however, the cards listed above are the only ones that come from reputable companies.